THINGS TO DO THURDAY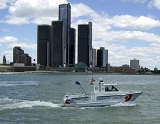 Native Americans are getting their back to their roots on
Friday, August 27, 2010
with a Detroit River Canoe Crossing to enforce the
1974 Jay Treaty Rights
led by the
American Indian Movement of Michigan
. 200 canoes will journey across Detroit's, Belle Isle Island/Park to Windsor, Ontario, and back.
The goal of
AIM of Michigan
is to further the rights of the original people of the America's, to promote cultural understanding, to aid in human rights causes, to promote respect and understanding of humanity, the earth and all creatures.
Although often confused with the new group in Michigan's Upper Peninsula, the Detroit group is supported by
Half Wolf Merchandise
, whose artists are all of Native descent, and the proceeds of all sales inherently support the native community. The
AIM of Michigan
office is located on East Boston Blvd. in Detroit, Michigan.
NOTE: "The "Jay Treaty" was ratified by Congress in 1797. John Jay negotiated this treaty with Great Britain. Under Jay's Treaty, the British agreed to leave areas in the Northwest Territory which they had been required to return earlier, under the Treaty of Paris. This treaty did not, however, oblige the British to observe American neutral rights."
Source:
© 2008Ê MultiEducator, Inc.Ê All rights reserved
______________________________________________________________
Contact AIM of MI for more information...
Facebook | American Indian Movement of Michigan
-Click Here to Connect
Chairman
|
Bryan Douglas Halfday
,
Email: bryanhalf@aol.com
_____________________________________________________________
MORE AIM Of Michigan NEWS
AIM of MI. led the USSF Conference Walk in Detroit. The River Crossing will be a kick off for the AIM of MI hosting of a Pow Wow in Lincoln Park, MI. August 27-29, 2010.
April 14-21, 2011 we are hosting a Pow Wow on a Cruise Ship to Bermuda. Dennis Banks will be having a birthday celebration aboard the cruise.
News Source(s): Craig Fraley Show LISTEN [MP3]
&
MLive.com News