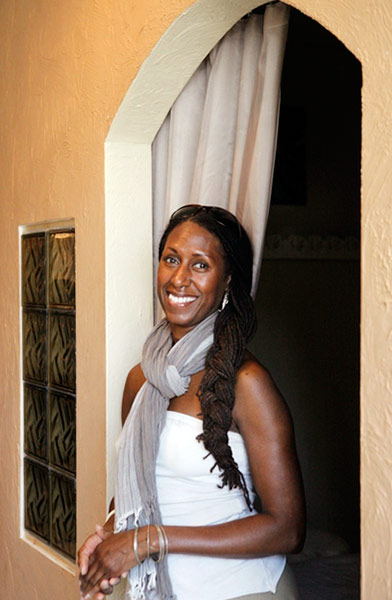 Former model, Nefertiti (shown above), moved to Detroit, from Chicago, finds it a pleasurable experience to educate and serve the community.
Textures by Nefertiti offers you a holistic spa experience.
She opened the doors to her serene salon in 2003 in the Spiral Collective then later expanded but remained in the same West Willis Village neighborhood in Midtown about a year ago. Her shop caters to women with locks (also referred to as dreads or dreadlocks) and women who seek to have a maintained, professional and stylish look without the use of hot combs and perms.
Textures by Nefertiti, open five days a week, offers women more than just a natural hairstyle, the design and energy of her peaceful salon provides refreshing comfort to the spirit as well. Even her website, featuring reposing colors, vibrant photos and mellow music, soothes you and eases tension.
In a personal message on the company website Nefertiti says, "Many women, in particular, were coming into a new spiritual awakening making changes inside and out. We were shedding old stereotypes of "nappy hair" and "good hair" vs. "bad hair". Textures by Nefertiti is said to be the mind, body, spirit health spa.
Textures by Nefertiti includes services such as, lock grooming and styling, natural nail care,
esthetic services by Dena, massage and a line of products by Hairobics, which are organic, environmentally safe and non-animal tested.




As always we want to thank Model D for bringing us some of the best stories on Metro Detroit leaders and activists.